Petitgrain Lemon Deodorant Spray
Regular price
Sale price
$20.00 USD
Unit price
per
Sale
Sold out
Our Petitgrain Lemon Deodorant is gentle, long-lasting and completely safe for the skin. It won't damage sensitive regions like the armpits. This spray also contains powerful natural antiseptic and disinfectant ingredients. Thus it eliminates bacteria that cause body odour and perspiration.
An ideal deodorant for both men and women who lead active and busy lives. 

Featured ingredients:

Witch Hazel extract - Has antibacterial properties and is a superb astringent, removing excess oil and moisture and constricting tissue to which it is applied.

Petitgrain - Refreshing, energizing, and delightfully woody yet floral fragrance. It curbs the growth of bacteria in those parts of the body that are always subjected to heat and sweat and remain covered by clothes so sunlight cannot reach them.

Lemon - Rich in Vitamin C and antioxidants. It helps to quicken the cell renewal process of the underarms. Thus the dark and pigmented skin of the underarm is lightened by appearance of new cells.
Directions: Spray 10cm to 15cm away from underarms. Dress as usual.
Available in 50ml spray glass bottle. Price indicated is for one (1) bottle.
#Settlement of sodium bicarbonate may be visible in fresh batches. Shake well before each use. 
Do not contain parabens, silicones or perfume. Only naturally-derived ingredients used. For external use only. This product is not intended to diagnose, treat, cure or prevent any disease. Always test on a small area of skin first and discontinue if any adverse condition occurs. Some individuals may be sensitive to sodium carbonate, patch test prior to use is strongly recommended. Keep out reach of children.
Share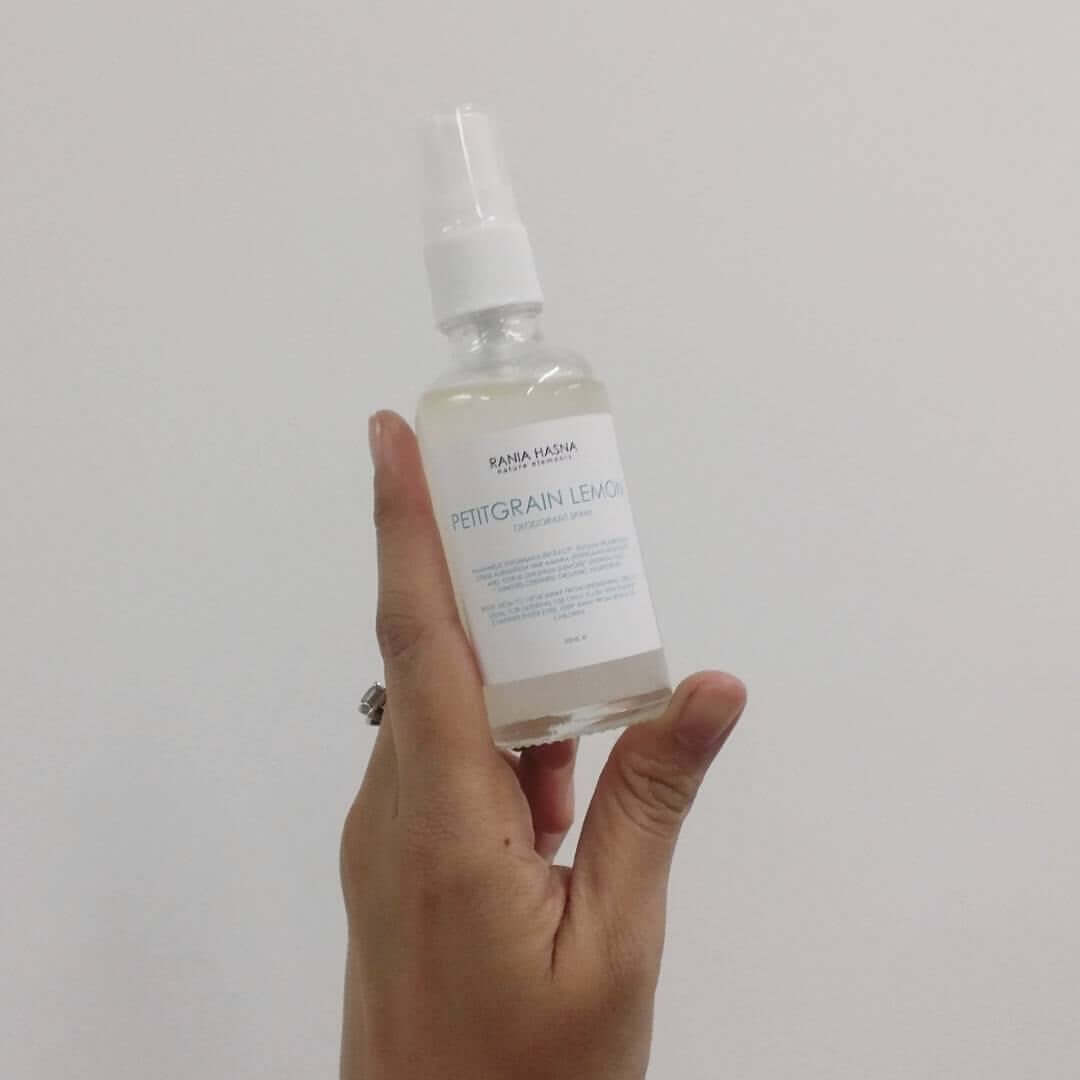 Best deodorant by far
Tried to switch to cheaper brands but none can compare to this. I will pay for the quality of this deo anytime for the effectiveness.Love the fresh scent too.
Awesome Deodorant Spray
It gives me confidence knowing that I'm using only good natural stuff; without parabens and chemicals, for my skin. The Petitgrain Lemon Deodorant Spray has a subtle zesty smell, and that is enough to keep me fresh all day!
Feeling fresh all day!!!!!
Petitgrain Lemon Deodorant Spray is awesome. It keeps me fresh all day till I end my day.
The best product and will continue to use it.
Ya, I bought my 2nd bottle already!!! 😉